• Blog • Brut Nature • Ca'Salina • Dolce • English Sparkling Wine • Extra Brut • Extra Dry • Fitz • Furlan • Low Sugar • Lyme Bay Winery • Moscato • Pink Fizz • Prosecco • Rosé • Sparkling Wine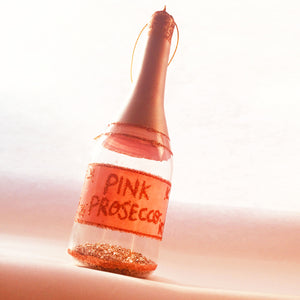 Pink Prosecco became official on 28 October 2020, or rather 'Prosecco DOC Rosé' to give it its correct name.  Before that date, Prosecco wasn't allowed to be pink and only the white style existed.   Why? Because the Prosecco Consortiums who make the rules that govern Prosecco production didn't allow a red grape to be used in the making of Italy's popular fizz.   Ok so not totally true….the red grape Pinot Noir was allowed but only the flesh (which is white) and not the skin (which is red and used to make rosé and red wine). All that changed last year...
---
• Blog • Ca'Salina • Cirotto • Dry • Extra Brut • Extra Dry • Furlan • Glasses • Low Sugar • Prosecco • Riedel • Tasting Box
Prosecco Superiore Tasting Box   The new Prosecco Tasting Boxes are essentially a Prosecco event in a box.  A must do for any true Prosecco lover.  They capture the essence of the Prosecco tasting events I have been hosting for the past 6 ish years BC (Before Covid!).  I'd developed the events over the years from my own knowledge and experience working directly with my brilliant artisan Prosecco producers and spending time with industry experts, plus the helpful feedback from my lovely Prosecco-loving customers I'd meet over the years.      Julia hosting a Prosecco tasting event (before Covid)  ...
---
• Blog • Ca'Salina • Extra Brut • Glasses • Low Sugar • Prosecco • Riedel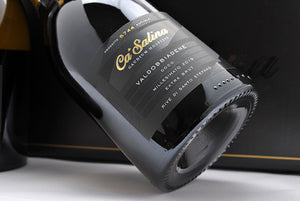 Have you spotted the word 'Rive' on some Prosecco labels?  A Rive Prosecco  refers to something special and indicates a super premium quality Prosecco.  It is a fairly recent addition to the Prosecco portfolio and something any Prosecco lover ought to be aware of.  If you look at the  Prosecco Quality Pyramid below there are essentially 4 quality levels: starting with 'Prosecco DOC' climbing to 'Superiore di Cartizze DOCG' at the top, with the 'Rive' sitting above 'Prosecco Superiore DOCG'. To achieve the 'Rive' Prosecco status it has to be made using grapes (at least 85% Glera) from one of...
---
• Brut Nature • Ca'Salina • Cirotto • Demi Sec • Dolce • Dry • Extra Brut • Extra Dry • Furlan • Low Sugar • Prosecco • Sparkling Wine
You may be surprised to discover that Prosecco is available in 6 different sweetness levels, from the fairly new classification (for Prosecco) of Brut Nature, the driest, to the sweetest style Demi-Sec.   The International Sparking Wine Scale is applicable to most sparkling wines including Champagne, Cava and English Sparkling Wine.  However, not all sparkling wines are made in every classification – that depends mainly on if there are rules governing the category, on the winemaker or the suitability of the grape. BRUT NATURE (also known as Brut Zero, Ultra Brut, Pas Dosé or Dosage Zéro), 0 – 3 g/l of residual...
---
• Ca'Salina • Extra Brut • Low Sugar • Moscato • Rosé • Sparkling Wine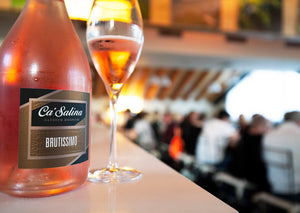 A 'bone dry Moscato' is quite an oxymoron.  A phrase which perfectly sums up Ca'Salina's Brutissimo Manzoni Moscato Extra Brut, a pink sparkling wine.   If you Google 'Moscato wine', you'll see that it is typically a sweet wine.  When I Googled 'Moscato Extra Brut', Ca'Salina's Brutissimo on my website was the only one that appeared. Hence, Moscato is rarely, if ever, bone dry.  Brutissimo is an exceptional wine, not only in terms of taste but also how it's made.  Produced using Manzoni Moscato grapes, it has only 0.5 grams of residual sugar per litre (that's very low – a typical...