• Blog • Ca'Salina • Cirotto • Dry • Extra Brut • Extra Dry • Furlan • Glasses • Low Sugar • Prosecco • Riedel • Tasting Box
Prosecco Superiore Tasting Box   The new Prosecco Tasting Boxes are essentially a Prosecco event in a box.  A must do for any true Prosecco lover.  They capture the essence of the Prosecco tasting events I have been hosting for the past 6 ish years BC (Before Covid!).  I'd developed the events over the years from my own knowledge and experience working directly with my brilliant artisan Prosecco producers and spending time with industry experts, plus the helpful feedback from my lovely Prosecco-loving customers I'd meet over the years.      Julia hosting a Prosecco tasting event (before Covid)  ...
---
• Blog • Ca'Salina • Extra Brut • Glasses • Low Sugar • Prosecco • Riedel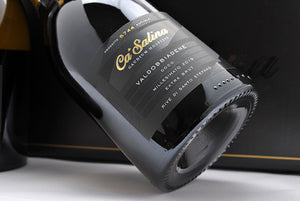 Have you spotted the word 'Rive' on some Prosecco labels?  A Rive Prosecco  refers to something special and indicates a super premium quality Prosecco.  It is a fairly recent addition to the Prosecco portfolio and something any Prosecco lover ought to be aware of.  If you look at the  Prosecco Quality Pyramid below there are essentially 4 quality levels: starting with 'Prosecco DOC' climbing to 'Superiore di Cartizze DOCG' at the top, with the 'Rive' sitting above 'Prosecco Superiore DOCG'. To achieve the 'Rive' Prosecco status it has to be made using grapes (at least 85% Glera) from one of...
---
In order to serve a particular brand of 'fizz on tap' at his hotel, a chap I was chatting to at an event this week told me he would need to have special glasses with nucleation points. Now I'm aware of nucleation points thanks to my work with top glassware brand, Riedel. Nucleation points in case you are not aware, are tiny rough laser-etched dots or rings at the base of a sparkling wine flute or glass. The purpose of this 'scratch', is to give the bubbles dissolved within your Prosecco (or other fizz) a point of release, helping them...