• Ca'Salina • Extra Brut • Low Sugar • Moscato • Rosé • Sparkling Wine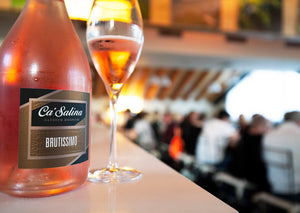 A 'bone dry Moscato' is quite an oxymoron.  A phrase which perfectly sums up Ca'Salina's Brutissimo Manzoni Moscato Extra Brut, a pink sparkling wine.   If you Google 'Moscato wine', you'll see that it is typically a sweet wine.  When I Googled 'Moscato Extra Brut', Ca'Salina's Brutissimo on my website was the only one that appeared. Hence, Moscato is rarely, if ever, bone dry.  Brutissimo is an exceptional wine, not only in terms of taste but also how it's made.  Produced using Manzoni Moscato grapes, it has only 0.5 grams of residual sugar per litre (that's very low – a typical...
---
• Blog • English wine • Fitz • Sparkling Wine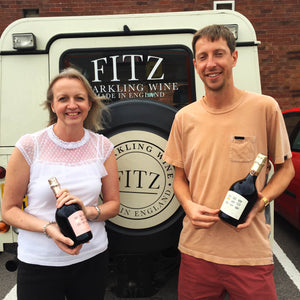 We're interested in what our winemaker's are up to now that all business as usual is anything but.  We asked Gareth Davies, Head Winemaker at Fitz Wine how he was spending his time in isolation and it turns out he's got a full house!  Have a read of his blog post: My dear baby brother turns 30 today – Happy Birthday, Nathan!  We live in different parts of the country, so normally I'd be wishing him well over the phone and hopefully would have remembered to have popped a card in the post. But things aren't normal at the moment...
---
• Ca'Salina • Fitz • Furlan • Lyme Bay Winery • Pink Fizz • Rosé • Sharpham Wine • Sparkling Wine
This time last month (the evening of Friday 13th March) it was my first ever Pink Fizz Tasting event.  Not only the first Pink Fizz event, but my first event of the year (which hopefully won't be the last given this strange year). I'd wanted to do a 'Pink Fizz' event for a while (after already doing Prosecco and English Sparkling Wine events) and spent the beginning of 2020 finalising my line up.    My Italian producers make some amazing sparkling rosé wines which aren't Prosecco (incidentally Rosé Prosecco doesn't exist, yet) as well as fabulous pinks too from English producers. ...
---
• Blog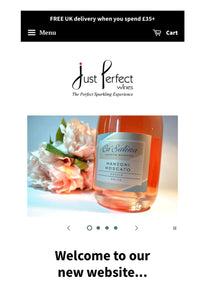 Welcome to the new Just Perfect Wines website.  I can't believe this is the 5th website in 6 years!  I may finally be happy with this one, at least for a while I hope.  It's quite a minefield when you are staring a business knowing what to do about a website.  So many companies offer to build it at a rather large cost and promises of how fantastic it will be.  But will it though?   The first 2 "professional" websites were quite a disaster especially the 1st attempt.  The 3rd and 4th versions were better but never quite what I...
---
• English Sparkling Wine • Lyme Bay Winery • Rosé
The Lyme Bay Brut Reserve is sadly coming to an end (it's been very successful!). However, there is the new vntage to look forward to, but not until March 2019. In the meantime I was advised to taste their English Sparkling Rosé Brut as an alternative. So when the occasion came to taste it, the expectation was that a friend and I would have just one glass before going out. My assumption being that it would be a bit too Champagne-y as I knew it was fermented for longer than the white Brut Reserve (at least 18 months) so it...